Husqvarna Construction Products
K760 Cut-N-Break:
The Husqvarna K 760 Cut-n-Break now has a new type of Cut-n-Break blade, with an improved stable core and cutting performance. The saw can cut in stages through walls up to 16" thick. With a standard engine of 73 cc, the Cut-n-Break has taken a big step toward increased cutting capacity. Additionally, the power cutter features reduced noise levels and a high-efficiency vibration dampening system. Equipped with the new generation of Active Air Filtration™, one of the market's most efficient centrifugal air cleaning systems, you can get up to one year's operation without a filter change. The K 760 Cut-n-Break is easy to operate and maintain, with low service and tool costs. It is also outfitted with an X-Torq® engine, which reduces emissions up to 75 % and lowers fuel consumption by 20 %. It is very easy to start due to Air Purge and a decompression valve.

Husqvarna Cut & Break Saws


Spec Sheet
---
K970 Power Cutter
The K970 Features and unuque power-to-weight ratio. It has the new Active Air Filtration ™, one of the market's most efficient contrifugal air cleaning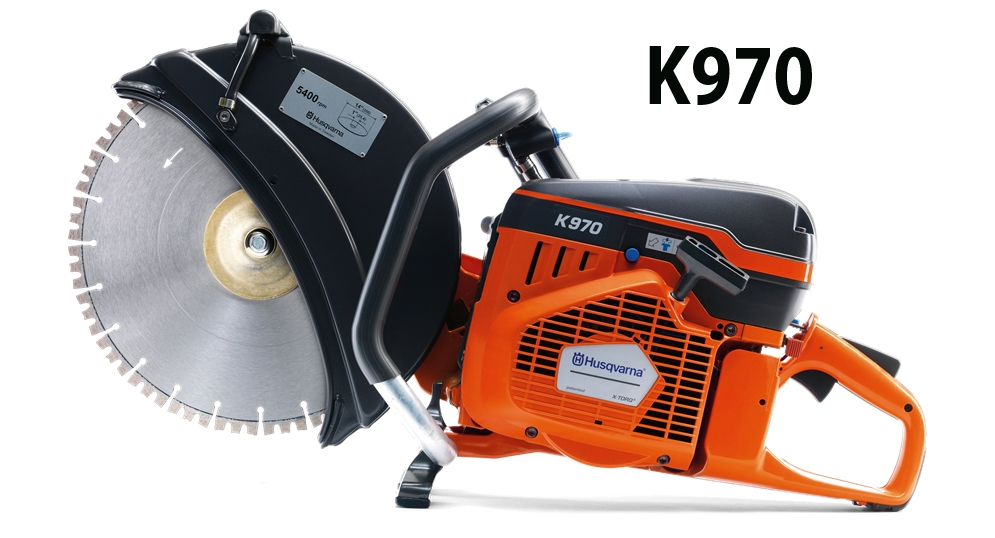 systems which assures minimum motor wear even un the dustiest environments and SmartCarb™, a built-in automatic filter compensation as well as a highly efficient vibration dampening system. The K 970 is equipped with an X-Torq®engine, which reduces emissions up to 75% and lowers fuel consumption by 20% and DuraStarter™, a dust-sealed starter that boosts reliability and product life. It has a new ergonomic rear handle with hand-friendly controls and is designed to rest well against the body. The K 970 is also ideal for heavier cutting of concrete and stone in alterations, renovations and new construction. It is perfect for cutting smaller holes and adjusting window and door openings, as well as for pipe, asphalt and metal cutting. It's also ideal for cutting of curbstones and pavers in landscaping.



K970 Spec Sheet
---
Early Entry 150 Ultra
The Husqvarna Soff-Cut 150 saw is designed for residential and light commercial applications. The lightest gas saw in the Soff-Cut range, the 150 is designed for ease of use and convenience. Features include a patented low noise blade enclosure which allows the unit to be used in residential areas with minimal disruption. In addition, the low-dust blade block system allows the saw to cut dry, and it controls the debris for easy cleanup.
Husqvarna Soff-Cut System
---
Core Drilling