TOTAL CONTROL OF YOUR INVENTORY
THE RIGHT PRODUCT AT THE RIGHT STAGE OF YOUR JOB!
NOS Philosophy:
This is an ease of use and time savings strategy It is for those who like the concept of a Keep Fill, want some level of control, but don't want to be held up by all the constraints and price of a Vending System.
EDGE NOS BOX PROGRAM WITH NOS FILL APP!
NOS (Never out of Stock) Box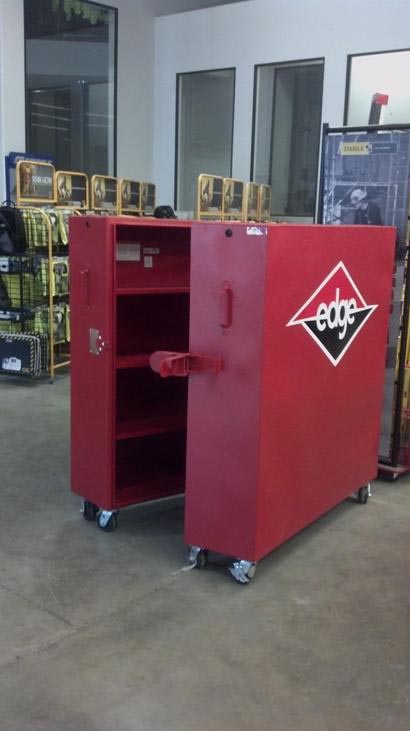 Edge's All Inclusive On-site Inventory Program
When does a NOS Box make sense?
When you use a large amount of inventory!

When your jobsite is remote!

When your job is time sensitive!

When you just can't run low on inventory!
The right products at the right time!
Your own on-site warehouse to fulfill your job or manufacturing material goods.
Edge can work with you to provide materials, consumables, tools, and other items needed for your jobsite ahead of time.
Different than a keep-fill system, Edge's NOS Box program is typically jointly managed between you and an Edge representative. This has two benefits: Keeps the costs down and makes sure you have the right products during the right phases of your project.
Flexibility is key to success!
Flexibility is the key with the NOS Box program. While many customers utilize a clam-shell style box with common consumable items, you might well have different needs. Edge is always open to discussing your needs and providing a solution that works best for your specific requirements.

Size of Box/Container:

Box sizes can vary from a small jobsite box to a large conex (photos above). Edge can even place one box per floor, if the job is large enough to warrant it.

Inventory Type & Amount: We work with you to get it right. Ask about recommending trade specific products for mechanical, plumbing, electrical, and other subtrades. Typical items include Unistrut fittings, fasteners, anchors, spring clips, abrasives, carbide bits, saw blades, safety items, and hand tools - just to name a few.

Billing: Negotiated, whether the inventory is purchased up-front or consigned.

Management: Typically one responsible person from your company is designated to keep control of the inventory. This person would have a key to the lock and be readily available to open or close the box.
NEW 12 Edition Digital Catalog Sign up for a Company Line of Credit
Interactive Version


Catalog 12 pdf version